Märklin Style - Packages
The World in Blue
---
Back to Märklin Style
Next page: Instruction Sheets
---
The year indicated for each article is the printing year appearing on the box (it is written in the "mm yy" format after the part-number, generally in one of the box tabs (e.g. 01 70 stays for January 1970). Of course the article may have been produced in the same way even before and after that year.
Green, Blue, Dark Blue: Colours of Märklin Tradition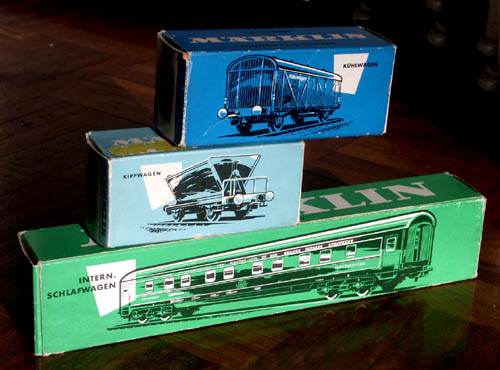 The colour schemes for wagon boxes.
Green years 1957-64 (sleeping car 4029, 1964), blue years 1965-69 (tipping wagon 4513, 1966), dark blue from 1970 (refrigerated wagon 4508, year 1973).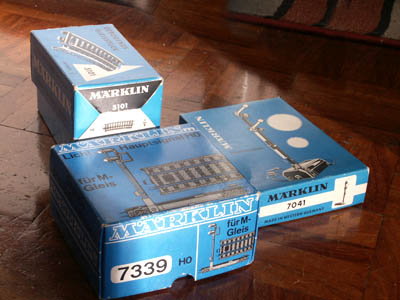 Accessories in the dark blue era (with old Märklin logo - upper case letters), years 1970 to around 1975.
track 5101 (1971), home signal 7041 (1970), light home signal 7339 (1974 - logo with white contour letters).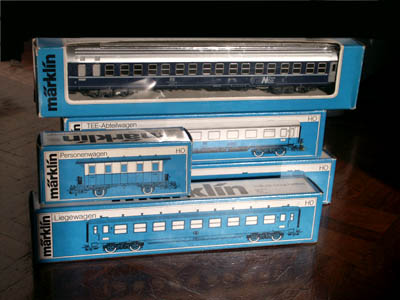 Passenger coaches in dark blue boxes (with new Märklin logo - lower case letters), years 1973-1988; transparent window introduced in 1976.
Belgian couchettes car 4116 (full cardboard box, 1987), TEE compartment car 4085 (1981, blue & white) passenger car 4107 (1981), FS sleeping car 4152 (cardboard with transparent window, 1980).
New Styles: from Red to White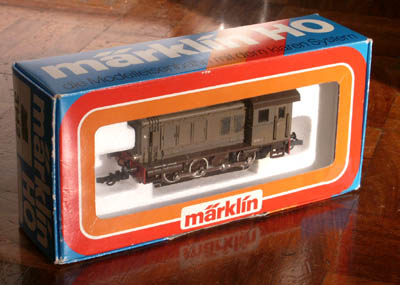 Red-blue boxes for locomotives, with transparent window, years 1974-86.
FS 236 diesel engine 3142 (1983)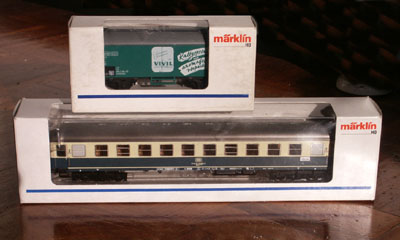 The new white boxes, introduced in 1988
and still used today. Refrigerated wagon 4425 (1994) and D-Wagen 4112 (2000).
Shining Pictures for the Start-sets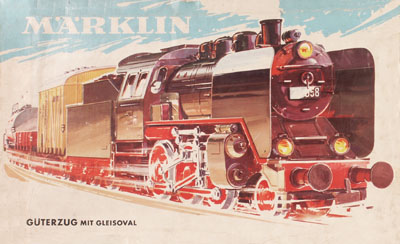 Start-set 3203
including a BR 24 steam engine and three freight trains.
This set has been produced from 1964-1977 and around 1970 the box (full cardboard, no styrene) was printed with a very nice watercolour.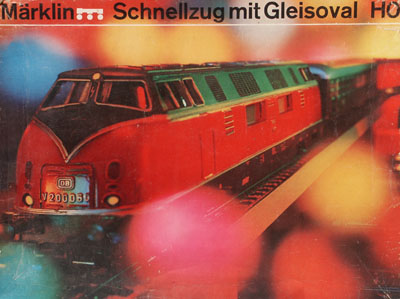 Start-set 3121
including a V 200 diesel engine and three passenger coaches of the "24 cm series".
This set has been produced from around 1964-1972 and since 1971 the box (cardboard with styrene housing) was printed with this spectacular portrait.
---