Hornby Dublo Electric Trains
SAFE AND RELIABLE POWERFUL LOCOMOTIVES FITTED WITH SUPPRESSORS, AUTOMATIC COUPLINGS, MAINS OR BATTERY OPERATED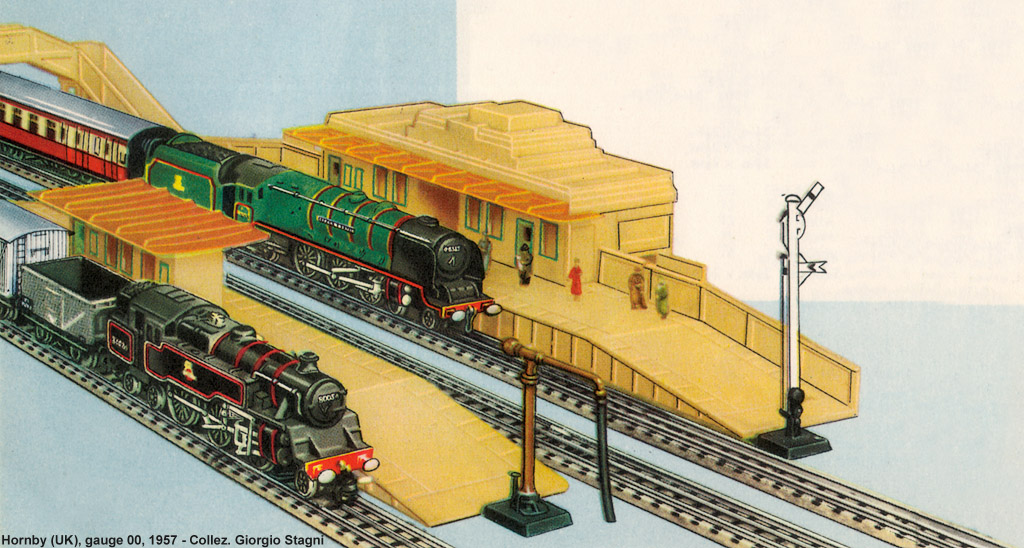 GAUGE 00 5/8 in. (16.5 mm.)
When you start a model railway it is obviously something you intend to enjoy for many years. Start off right - with Hornby-Dublo, precision engineered for lasting service. The Hornby-Dublo System, with remote control, can reproduce all the workings of a real railway - on a table!
MASTERPIECES IN MINIATURE. Hornby-Dublo trains are accurate reproductions of real trains, made of the finest materials and with engineering precision. The locomotive housings and other components are die-cast under pressure, a process that gives a product of great strength and durability, with perfect surface detail. Locomotives and rolling stock are handsomely finished in British Railways colours, with names and numbers correctly reproduced.
EASY TO RUN. The Hornby-Dublo system operates on D.C. at 12 volts, and is therefore safe for the youngest owners. Current may be obtained in any one of three different ways, as follows:
From A.C. mains through a Hornby-Dublo Power Control Unit A2 or A3.
From three 4-5 volt dry bell batteries (Ever-Ready 126 or Drydex H30), using a Hornby-Dublo Battery Control Unit.
From a 12-volt accumulator, of 10 or 20 amp-hr. capacity, using the Hornby-Dublo C3 Controller.
SIMPLE TO CONTROL. Trains can be started either forward or backward and stopped by just moving the single handle of the Controller, which also varies their speeds. Thus trains on a Hornby-Dublo layout can be operated realistically from a central control position.
TRACK COMPONENTS. The Straight and Curved Rails, Points and Crossings which are available allow for a wide variety of layouts, and there are special Large Radius Curves that, with the Standard Curved Rails, provide double track, like that of a real railway.
AUTOMATIC COUPLING AND UNCOUPLING. Hornby-Dublo Locomotives, Coaches and Wagons couple immediately on impact, and the Uncoupling Rail is used to disengage automatically the couplings of vehicles passing over it. Thus trains can be made up, or broken up, by remote control, without handling them at all.
Two forms of Uncoupling Rail are available. One is hand-operated; the other is electrically-operated, brought into action by means of a push-button switch.
ELECTRICALLY-OPERATED ACCESSORIES. Other electrically-operated components of the Hornby-Dublo System include Points and Signals, with neat and efficient Switches specially designed for operating them. The Switches can be grouped alongside the Controller, so that there is a complete remote control over all train movements, including shunting. With the T.P.O. Mail Van Set, trains can be run that pick up mail and set it down without stopping - just as on real railways. In addition to the components and accessories already noted, the system includes hand-operated Signals, a Water Crane, a Loading Gauge, a Signal Cabin and Buffer Stops. Two handsome Stations are available, each with buildings and ramps. These and other components of the System are illustrated in the following pages of this booklet.
---
Guarantee
All Hornby-Dublo components are thoroughly tested before despatch from the Meccano Works, and their efficiency is guaranteed.