Modellismo
Model Railways
For foreign visitors: this section contains links to the Märklin pages (in English) and to articles dealing with Rivarossi and Lima (in Italian).
---
Con l'uscita di un primo articolo sul mondo Rivarossi, introduco questa nuova pagina "indice" che fa accedere sia alla tradizionale pagina del Märklin Style, sia a quella nuova di Rivarossi.
---
Treni modello e impianti (416 immagini)
Model trains & layouts

1/2017

E.550, un viaggio nella Riviera del 1950 .
A trip on Italian Riviera with threephase engines.
25 foto.

5/2020

Binari Märklin sul tappeto .
An M-Gleis Layout in my Room.
57 foto.

5/2016

Märklin classic: intorno al TEE RAm (3071) . Un'antologia di modelli TEE e immagini dai cataloghi.
Photos of TEE classic models (3071, 3054) and images from vintage catalogues.
20 foto.

5/2016

Rivarossi ed io - Gli anni '80, imprinting di ferrovia italiana . Il mio contributo al libro "Rivarossi. Un percorso nel segno del mito"
Myself and Rivarossi (my contribution in a book dealing with Rivarossi's history).

5/2020

Lima Classic . Uno sguardo ai modelli anni '60.
Some Italian Lima models from the Sixties.
18 foto.

11/2020

Il TEE Breda 442/448 e i suoi servizi (1957-1972) . Dal modello Rivarossi ai documenti e alle foto storiche.
The Italian railcar built by Breda and used for TEE services in years 1957-72, and its Rivarossi H0 model.
45 foto.

12/2022

I treni Conti - CO.MO.G.E. e FAGE degli anni '50 .
Italian diecast models of the Fifties from Conti-CO.MO.G.E. and FAGE factories.
17 foto.

12/2022

Evoluzione delle tecnologie modellistiche - Un'antologia .
Some examples of H0 coaches showing 1950-70's technology in model railroads.
19 foto.

6/2022

Il plastico Demuru .
Italian layout made by Giovanni Demuru (Era III/IV).
20 foto.

11/2023

NUOVO Il plastico Demuru - Seconda parte .
Italian layout made by Giovanni Demuru (Era III/IV).
20 foto.

3/2016

La Swissminiatur di Melide - 2015 .
The new visit at Swissminiatur, in June 2015.
15 foto.

6/2008

La Swissminiatur di Melide - 2007 .
A visit at Swissminiatur, an open-air miniature park located in Melide (CH).
24 foto.

12/2016

Mini-tour alla Minitalia di Capriate (BG)
A visit at Minitalia model railway (1:32, LGB gauge)
30 foto.

11/2008

Märklin: immagini selezionate dai cataloghi .
Selected images from Märklin vintage catalogues
46 foto.

1/2017

Locomotive in posa .
Close-up photos of engines from Mäerklin and other firms, taken beside a Märklin tin-plate station from year 1954.
20 foto.

2/2012

I tram Rivarossi .
The Rivarossi Tram System.
15 foto.

8/2012

ALe 601 Lima: una Riparazione generale fatta in casa! .
Rebuilding an ALe 601 EMU, using a 1990's toy-edition from Lima production.
14 foto.

4/2010

Il treno LEGO .
The LEGO railway system.
10 foto.

Cataloghi e manuali (32 immagini)
Catalogues and handbooks

3/2021

Märklin: manuali binari 1959-1969
Handbooks of layouts.
2 foto.

5/2014

Märklin: volantino 1965-66 con i prezzi dei modelli.
Italian leaflet 1965-66 with prices.
4 foto.

6/2022

Märklin e Rivarossi: listini prezzi 1975-95 .
Price lists of Märklin and Rivarossi models for some years between 1975 and 1995 (Italian Lire).
6 foto.

1/2023

NUOVO Cataloghi vari Hornby, Fleischmann, Lego .
Selected pages from Hornby, Fleischmann, Lego catalogues.
4 foto.

6/2022

Hornby Dublo Electric Trains . Immagini dai cataloghi del 1957.
Selected images from 1957 vintage catalogues & leaflets.
16 foto.
---
Märklin Style - tecnica e design di un mondo in miniatura
Märklin Style - A Story of Industrial Design in Model Railway
A complete set of articles dealing with classic Märklin models, with full English text.
Una vasta raccolta di articoli sui classici modelli Märklin e sulla loro tecnologia.
Leggi gli articoli / read the articles
---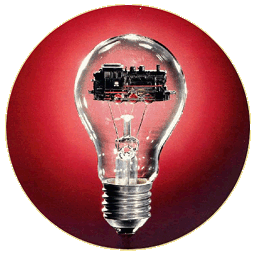 Z WORLD! (23 immagini)
Il mondo in scala Z

3/2012

1972: Z Scale is Born . The first leaflet of Märklin Mini-Club.
Il primo depliant illustrativo "Märklin Mini-Club" del 1972.
2 foto.

1/2023

NUOVO Manuali Märklin Z.
Track layout guide.
1 foto.

8/2012

Under Construction! My own small layout during construction.
Il mio mini-impianto Z in costruzione.
12 foto.

8/2012

A Steam Engine Class 600 FS in Z scale built on the frame of a classic 8895 (BR 74) Märklin loco.
Una Gruppo 600 FS autocostruita in scala Z.
8 foto.
Under construction... stay tuned!
In costruzione (nel vero senso della parola!).
---
Rivarossi, dov'è finito il modellismo italiano?
Rivarossi: Italian Model Railroad Has Disappeared
Although the trademark "Rivarossi" is still used by Hornby, the true Rivarossi techniques and style have completely disappeared. The historical plants in Como, established in 1947, were closed in 2000, and four years later the whole production was transferred to China, under the control of Hornby.
We would like to remember some classic items of Rivarossi production, with a few pictures from its catalogues of 1970-80's.
Ripercorriamo almeno una piccola parte della grande tradizione modellistica Rivarossi, ormai cancellata dalla delocalizzazione in Cina.
Leggi l'articolo / Read the article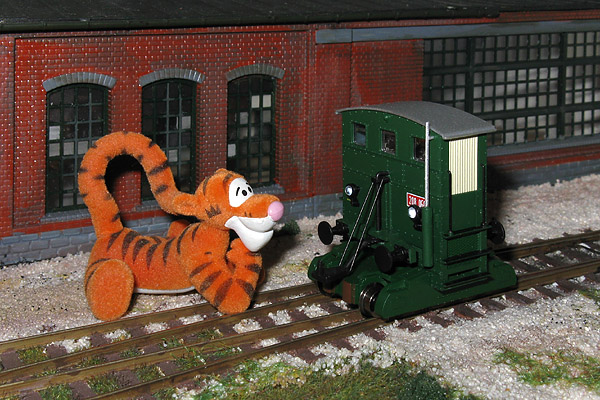 Tigro si ferma a osservare un minitreno tutto per lui! Si tratta di una Sogliola, automotore da manovra gruppo 208, utilizzato in un gran numero di scali italiani fino al principio degli anni '80.
---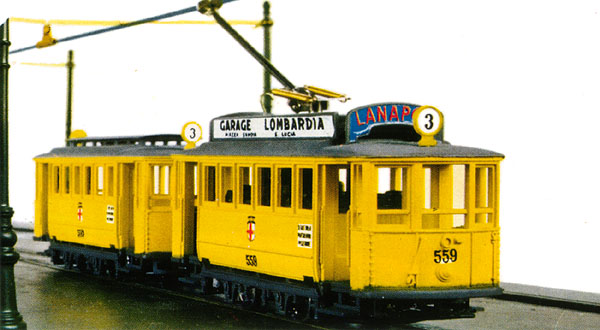 The tram system by Rivarossi was introduced in 1963 and remained in stock until late Eighties. The only vehicle that was reproduced was the classic Edison tram from Milan, in its aspect during the 1920's (yellow livery, rebuilt cabs). The tram used the standard Rivarossi DC motor but was powered in a way similar to Märklin's third rail: a pole conducted by both rails, the other one conducted by catenary. In such a way loops were not an electric problem. The layout was made of square rail sections (20×20 cm) including the street itself. A tiny radius (10 cm) permitted to build very compact layouts.
The pictures show some pages from Rivarossi's catalogue in year 1975 and a layout built in 2007 by Claudio Vianini, using the original Rivarossi tracks. The yellow trams are the original Rivarossi (although improved in some details). Also their final version in green livery is shown, reproducing the appearance around 1950, when they were mainly used for suburban line 32 "Corvetto-Rogoredo". The first electric tram in Milan (year 1893, red livery) and a tram of the Fifties (number 5136, green) were built by myself.
Nato nel 1963, è rimasto a catalogo - con reperibilità a fasi alterne - fino alla fine degli anni Ottanta. Con un inconsueto sistema di funzionamento a rotaie non isolate e linea aerea funzionante, ha rappresentato un unicum nella variegata produzione Rivarossi. Un impianto assolutamente d'epoca e qualche altro tram autocostruito ci danno lo spunto per un viaggio in una Milano fuori dal comune.
Vai alla galleria fotografica / The Rivarossi Tram System: photo gallery.

Modelli in resina dei tram Edison in scala 0 (1:43,5), tram e monumenti da costruire in cartoncino, e altro ancora sul sito www.forbicolla.it di Cesare SG Bianchi.
---
Fino a tutti gli anni '80, uno sguardo sotto il mantello faceva immediatamente individuare lo "stile" di ciascuna marca, e una meccanica Lima era radicalmente diversa da una Rivarossi o Roco . Vale allora la pena di mostrare una breve antologia di queste tre marche, con un corredo fotografico didatticamente esplicativo.
Leggi l'articolo / Read the article
---
Il trenino elettrico Lima era un disastro, intanto perché era solo un cerchio di binari e quindi, quando ben avevi trovato il modo di mettere insieme tutti i binari che ci sono nella prima confezione, ti ritrovavi una cosa dove sentivi il bisogno cane di binari dritti.
E allora, se i tuoi genitori erano disposti ad aprire il portafoglio, ne compravi due, quattro, sei (numero pari) di binari dritti, per allungate il cerchio. Poi il sogno diventava quello di aggiungerci qualche scambio (roba da adulti o da bambini ricchi), diramazioni, raddoppi, fasci di binari, finché tutto il pavimento della stanza non fosse pieno di binari che si incrociano, come nei film americani...
Ma quand'anche tu fossi riuscito a mettere insieme binari, linee, scambi, curve, quando attacchi la corrente lui comincia a girare e dopo un po' ripassa nello stesso punto, e gira in tondo, e gira in tondo, e gira in tondo, e gira in tondo, e gira in tondo, e gira in tondo, e allora ti viene un assoluto bisogno di metterci di fianco una scatola di scarpe, bucata, per fare una galleria, un vaso di fiori per fare una foresta, qualcosa che faccia da stazioni, qualcosa che stia fermo per permettere a quel treno che si muove di apprezzare il fatto che si muove. I binari da soli non bastano, serve il paesaggio.
Così, quando c'è qualcosa di fermo e qualcosa che gli passa a fianco, esce, esce il suono dalla bocca, e io divento treno...
Dodeskadèn, dodeskadèn, dodeskadèn, dodeskadèn...
Sono diventato treno da bambino perché ho imparato a conoscere il Paese dove vivo, stazione dopo stazione; così l'ho misurato. Per farlo mio, ho dovuto arrivarci attraverso un treno, sopra un treno, essendo treno io stesso.
Marco Paolini, Binario illegale, 2003
---