Signs of a Railway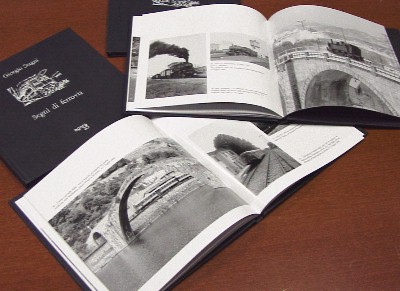 20×20 cm, 48 pages, 170 g/m² gloss paper,
heavy cardboard cover.
55 black & white photos, subdivided into the following chapters:
Black & White along the Seaside
Electric Engines
Travelling on a Railcar
Steam between History and Landscape
with short introductions to each chapter.

Locos and multiple units from the following groups: 625, 640, 685, 740, 830, 880, 981, ALn 990, ALn 773, ALn 668, ALn 663, D.345, E.554, E.626, E.428, E.636, E.424, E.645, E.646, E.444, E.656, E.633, ALe 840, ALe 540, ETR 300, SBB RABe 1050.
Photos taken between 1983 and 2002 (in co-operation with Giovanni Demuru for the early 80's).
All photos come from original black & white negatives. They are not colour slides printed in black & white!

Read here the introduction of the book.

Watch here the thumbnails of all photos.

A review appeared on the English magazine Continental Modeller.

Price: 15 Euro

An English translation is provided on a separate leaflet.
A German translation will be probably available too, if the request from the German-speaking areas is large enough.

Laigueglia (Savona)
E.636.245, 30 July 1993

Milano Centrale
SBB RABe 1050, 25 January 1985.

Tenda (France)
ALn 663.1163, 21 August 1997

Cosenza
981.007 rack loco, 28 October
1985 (photo G. Demuru).
---
How to buy
To order, just send money (Euro currency in an envelope) to:


Giorgio Stagni
via Govone 100
I 20155 Milano


clearly stating your address and the book you want. Daily shipping!
Price includes shipping costs.
---
Printed by Agora35, Ideas and plans for photographic micro-editing.
---
[Indice della sezione] / [This Section]